At Talladega Superspeedway on Saturday, Noah Gragson won in triple overtime.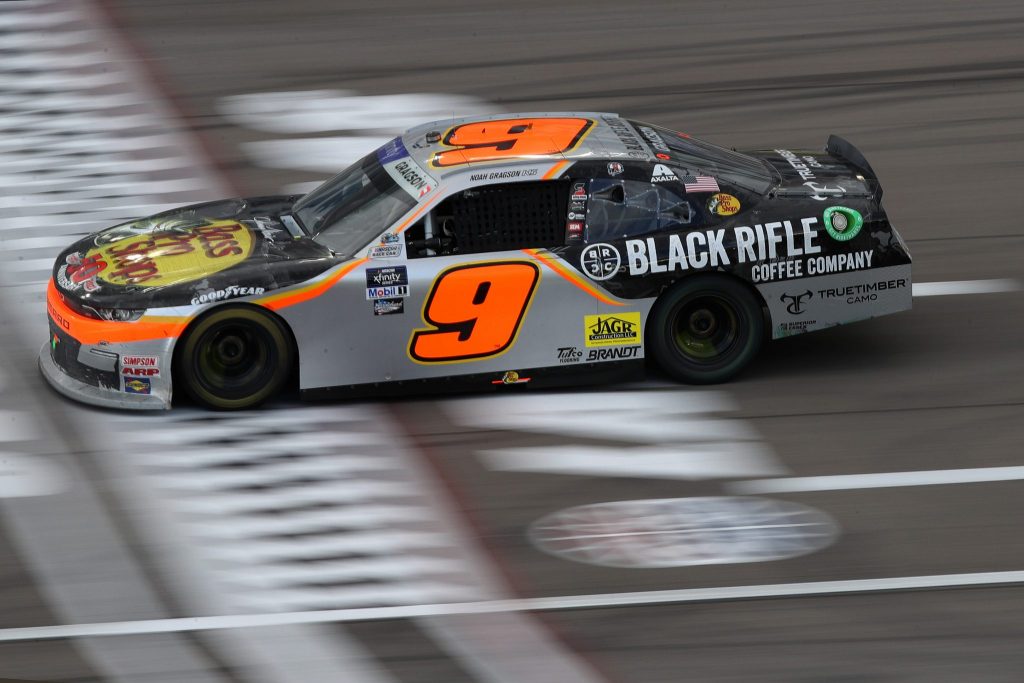 With only seven laps to go, Gragon won his sixth NXS race and second of the 2022 season.
The race stretched much beyond its allotted distance, necessitating three overtime restarts to finish.
Austin Hill dominated the most laps (67), but his race was cut short following a late-race collision with Sam Mayer. In a one-off beginning for Richard Childress Racing, Jeffrey Earnhardt surged to the front in the closing stages for a career-best second place result.
With 10 cautions, there were 14 distinct leaders and 25 lead changes.
Cla
#
Driver
Manufacturer
Laps
Time
Gap
Interval
Laps Led
Retirement
Points
Bonus
1
9
Noah Gragson
Chevrolet
124
2:40'52.164
7
44
2
3
Jeffrey Earnhardt
Chevrolet
124
2:40'52.295
0.131
0.131
10
38
3
16
A.J. Allmendinger
Chevrolet
124
2:40'52.431
0.267
0.136
6
42
4
10
Landon Cassill
Chevrolet
124
2:40'52.482
0.318
0.051
40
5
38
Ryan Sieg
Ford
124
2:40'52.482
0.318
0.000
32
6
23
Anthony Alfredo
Chevrolet
124
2:40'52.492
0.328
0.010
3
34
7
98
Riley Herbst
Ford
124
2:40'52.522
0.358
0.030
30
8
07
Joe Jr.
Ford
124
2:40'52.616
0.452
0.094
29
9
31
Myatt Snider
Chevrolet
124
2:40'52.634
0.470
0.018
30
10
02
Brett Moffitt
Chevrolet
124
2:40'52.653
0.489
0.019
28
11
8
Josh Berry
Chevrolet
124
2:40'52.690
0.526
0.037
5
36
12
36
Alex Labbé
Chevrolet
124
2:40'52.759
0.595
0.069
25
13
18
Dollar Drew
Toyota
124
2:40'52.771
0.607
0.012
1
29
14
53
Shane Lee
124
2:40'52.874
0.710
0.103
23
15
27
Jeb Burton
Chevrolet
124
2:40'53.001
0.837
0.127
23
16
35
Joey Gase
Toyota
124
2:40'53.025
0.861
0.024
21
17
4
Bayley Currey
Chevrolet
124
2:40'53.029
0.865
0.004
20
18
39
Kyle Sieg
Ford
124
2:40'53.147
0.983
0.118
19
19
78
Josh Williams
Chevrolet
124
2:40'53.594
1.430
0.447
18
20
6
Ryan Vargas
Chevrolet
124
2:40'56.558
4.394
2.964
17
21
47
Gray Gaulding
Chevrolet
123
2:41'00.412
1 Lap
1 Lap
16
22
7
Justin Allgaier
Chevrolet
122
2:39'55.007
2 Laps
1 Lap
13
Fuel pressure
30
23
51
Jeremy Clements
Chevrolet
122
2:41'02.012
2 Laps
1'07.005
14
24
2
Sheldon Creed
Chevrolet
113
2:21'59.815
11 Laps
9 Laps
1
Accident
13
25
45
Caeser Bacarella
Chevrolet
113
2:22'00.395
11 Laps
0.580
Accident
12
26
19
Brandon Jones
Toyota
110
2:17'39.886
14 Laps
3 Laps
DVP
18
27
21
Austin Hill
Chevrolet
110
2:19'16.884
14 Laps
1'36.998
67
Accident
24
28
1
Sam Mayer
Chevrolet
109
2:14'24.648
15 Laps
1 Lap
2
Accident
20
29
48
Kaz Grala
Chevrolet
103
2:01'58.933
21 Laps
6 Laps
Accident
30
68
Brandon Brown
Chevrolet
103
2:01'59.167
21 Laps
0.234
1
Accident
11
31
5
Matt Mills
Chevrolet
96
1:50'28.314
28 Laps
7 Laps
Accident
6
32
44
Ryan Ellis
Chevrolet
84
1:41'33.227
40 Laps
12 Laps
DVP
5
33
08
David Starr
Ford
83
1:41'33.355
41 Laps
1 Lap
1
DVP
4
34
11
Daniel Hemric
Chevrolet
79
1:37'33.664
45 Laps
4 Laps
DVP
3
35
54
Ty Gibbs
Toyota
76
1:27'49.494
48 Laps
3 Laps
5
Accident
17
36
66
J.J. Yeley
Chevrolet
51
1:02'13.218
73 Laps
25 Laps
2
DVP
1
37
91
Mason Massey
Chevrolet
47
50'50.349
77 Laps
4 Laps
Accident
1
38
26
Chandler Smith
Toyota
47
50'50.632
77 Laps
0.283
Accident
Cre: Motorsport
Below are some of the most well-known NASCAR drivers' uniforms, all of which are available at reasonable costs. Visit our link now if you are interested in the racing clothing collection:
Earnhardt, Grand Prix, IndyCar, Nascar, NASCAR Cup Series, Noah Gragson, Ross Chastain, Talladega, XFinity