Only a small piece of debris really got in the way of Ty Gibbs' NASCAR Xfinity Series-leading fifth victory of the year, and even that didn't last long.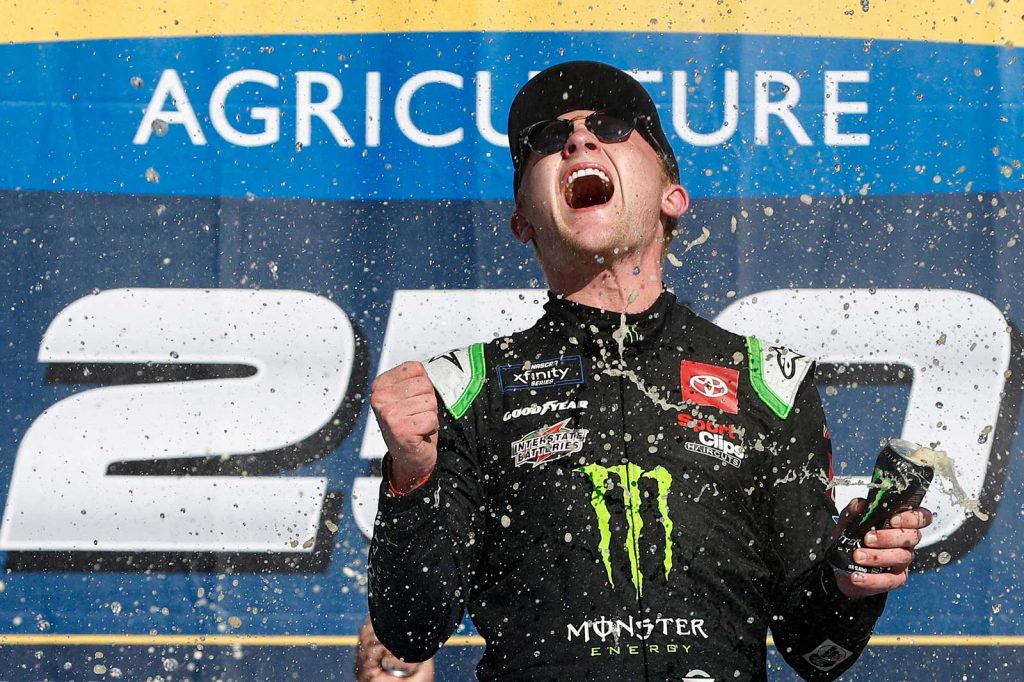 The race at Michigan International Speedway's last stage on Saturday was won by Gibbs, 19, and there were no cautions issued. However, on Lap 88 of 125, Gibbs' No. 54 Toyota actually picked up a sizable piece of debris on its grille.
The air soon cleared the debris from Gibbs' engine and restored normal engine temperature as he drew up behind Blaine Perkins' lapped vehicle.
After completing a series of pit stops under green flags, Gibbs was not significantly challenged for the lead and defeated Justin Allgaier by 1.160 seconds.
In just 39 starts, Gibbs has won five times this year and nine times overall.
"We had a very fast (car). It's awesome," Gibbs said. "This style of racing also shows the strategy and pit stops as we got pretty spread out. My guys did a great job. My pit works so hard – I work out with them during the week. I see how hard they work.
"I just race week-in and week-out. People can get all excited and think they're making a huge statement then they go to the playoffs and suck."
Kurt Busch, who is still recovering from an injury, will be replaced on Sunday by Gibbs, who will earn his third consecutive Cup Series race.
Gibbs expressed his gratitude for the chance and expressed his hope that Kurt would keep improving. "If you think these cars are hard to drive, wait to you get to the Cup Series."
Brandon Jones came in fourth, followed by Austin Hill and Noah Gragson, who had won the first two stages.
Josh Berry, A.J. Allmendinger, Daniel Hemric, Riley Herbst, and Landon Cassill made up the final ten.
Cla
#
Driver
Manufacturer
Laps
Time
Gap
Interval
Laps Led
Retirement
Points
Bonus
1
54
Ty Gibbs
Toyota
125
1:45'55.065
54
48
2
7
Justin Allgaier
Chevrolet
125
1:45'56.225
1.160
1.160
17
44
3
9
Noah Gragson
Chevrolet
125
1:45'57.537
2.472
1.312
39
54
4
19
Brandon Jones
Toyota
125
1:46'05.901
10.836
8.364
38
5
21
Austin Hill
Chevrolet
125
1:46'08.893
13.828
2.992
1
36
6
8
Josh Berry
Chevrolet
125
1:46'11.063
15.998
2.170
3
40
7
16
A.J. Allmendinger
Chevrolet
125
1:46'11.107
16.042
0.044
7
46
8
11
Daniel Hemric
Chevrolet
125
1:46'14.841
19.776
3.734
33
9
98
Riley Herbst
Ford
125
1:46'17.744
22.679
2.903
28
10
10
Landon Cassill
Chevrolet
125
1:46'21.600
26.535
3.856
36
11
2
Sheldon Creed
Chevrolet
125
1:46'25.869
30.804
4.269
26
12
18
Sammy Smith
Toyota
125
1:46'26.334
31.269
0.465
1
33
13
68
Brandon Brown
Chevrolet
124
1:45'55.230
1 Lap
1 Lap
24
14
23
Anthony Alfredo
Chevrolet
124
1:45'58.727
1 Lap
3.497
1
28
15
39
Ryan Sieg
Ford
124
1:46'02.922
1 Lap
4.195
2
28
16
34
Kyle Weatherman
Chevrolet
124
1:46'03.405
1 Lap
0.483
21
17
31
Myatt Snider
Chevrolet
124
1:46'04.086
1 Lap
0.681
23
18
48
Kaz Grala
Chevrolet
124
1:46'06.588
1 Lap
2.502
19
26
John Hunter Nemechek
Toyota
124
1:46'07.333
1 Lap
0.745
20
66
J.J. Yeley
Chevrolet
124
1:46'19.042
1 Lap
11.709
17
21
28
Kyle Sieg
Ford
124
1:46'24.909
1 Lap
5.867
16
22
27
Jeb Burton
Chevrolet
124
1:46'26.076
1 Lap
1.167
15
23
07
Joe Jr.
Ford
124
1:46'26.265
1 Lap
0.189
14
24
91
Mason Massey
Chevrolet
124
1:46'30.130
1 Lap
3.865
13
25
35
Patrick Emerling
Toyota
124
1:46'32.617
1 Lap
2.487
12
26
36
Alex Labbé
Chevrolet
124
1:46'34.024
1 Lap
1.407
11
27
44
Ryan Ellis
Chevrolet
124
1:46'34.305
1 Lap
0.281
10
28
45
Josh Bilicki
Chevrolet
124
1:46'37.171
1 Lap
2.866
29
6
Ryan Vargas
Chevrolet
123
1:46'05.887
2 Laps
1 Lap
8
30
4
Bayley Currey
Chevrolet
123
1:46'07.080
2 Laps
1.193
7
31
51
Jeremy Clements
Chevrolet
123
1:46'17.778
2 Laps
10.698
6
32
02
Blaine Perkins
Chevrolet
123
1:46'17.863
2 Laps
0.085
33
1
Sam Mayer
Chevrolet
123
1:46'20.928
2 Laps
3.065
4
34
77
Dillon Bassett
Chevrolet
122
1:46'18.380
3 Laps
1 Lap
3
35
08
David Starr
Ford
100
1:32'29.271
25 Laps
22 Laps
Hub
2
36
5
Josh Williams
Chevrolet
87
1:27'30.234
38 Laps
13 Laps
Electrical
1
37
38
CJ Mclaughlin
Ford
40
32'43.261
85 Laps
47 Laps
Accident
1
38
78
Matt Mills
Chevrolet
39
32'45.778
86 Laps
1 Lap
Cre: Motorsport.com
Below are some of the most well-known FORMULA 1 drivers' apparels, all of which are available at reasonable costs. Visit our link now if you are interested in the racing clothing collection:
Michigan International Speedway, Grand Prix, IndyCar, Justin Allgaier, Nascar, NASCAR Cup Series, Ty Gibbs, Xfinity