The eighth running of the competition, which took place at the VR46 Ranch in Tavullia, saw the Italians defeat Marini and Rossi.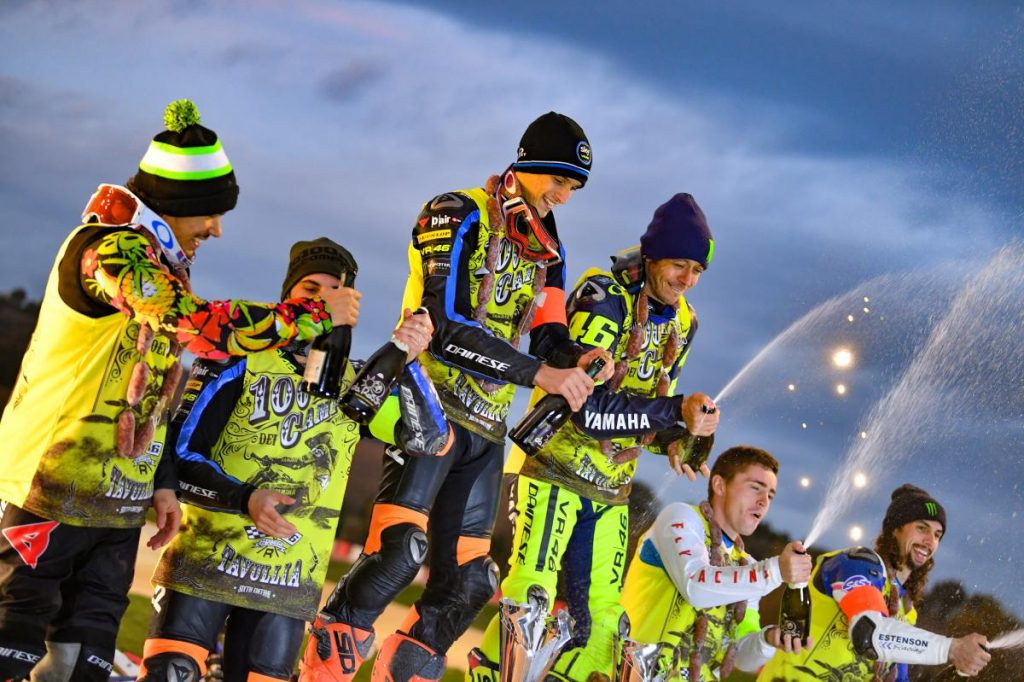 The seventh 100km dei Campioni competition was held at the VR46 Ranch in Tavullia, Italy, and was won by Elia Bartolini and Lorenzo Baldassarri.
The 100km dei Campioni, organized this year by Valentino Rossi and the VR46 Riders Academy, pitted 40 motorcycle racing superstars against one another in teams of two, with eight of them competing in the premier class. Rossi and Luca Marini of the Mooney VR46 Racing Team started on the front row, while Bartolini and Baldassarri took off from the second row.
Celestino Vietti (Fantic Motor) and Niccolo Antonelli took the final two spots on the podium, finishing third and second, respectively, after the 50-lap race on the VR46 Ranch track. Marini and Rossi, the champions from the previous year, were forced to settle for P2. Franco Morbidelli (Monster Energy Yamaha MotoGPTM), Andrea Migno (P4), 2022 MotoGPTM World Champion Francesco Bagnaia (Ducati Lenovo Team), and Marco Bezzecchi (Mooney VR46 Racing Team) round out the top five riders.
Marini defeated Morbidelli and Vietti to claim victory in the special "La Americana" race that was run on the oval racetrack on Saturday.
We bring out some of the most well-known MOTOGP/Motocross riders' uniforms, all of which are available at reasonable costs. Visit our link now if you are interested in the racing clothing collection:
MOTO, MXGP, Moto racing, Motocross, MOTOGP, Moto3, Moto2, Elia Bartolini, Lorenzo Baldassarri, Valentino Rossi, VR46, Campioni