The NASCAR Xfinity Series race at Kansas Speedway on Saturday was cut short by rain, but Noah Gragson's triumph in Stage 2 resulted in an overwhelming win.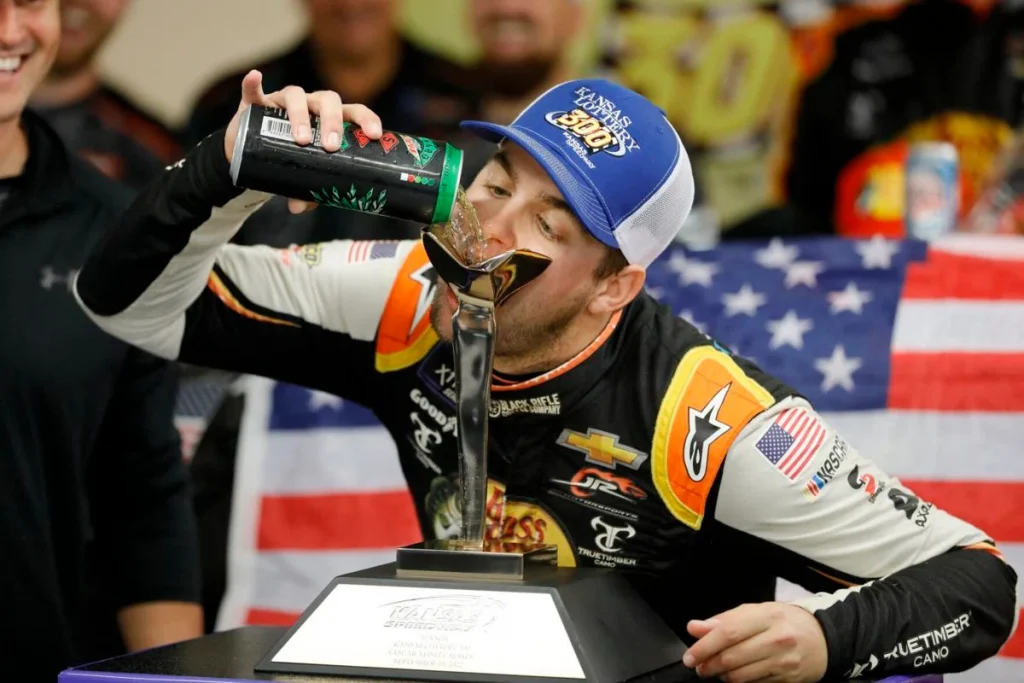 The race was called after 93 of 200 laps because of rainfall after Justin Allgaier, a teammate from JR Motorsports, was successfully fended off for Stage 2 win.
It was official because the first two stages of the race had already been finished, or the halfway point had been achieved, so at around 4:35 p.m. ET, NASCAR deemed the weather would not get any better the rest of the day and crowned Gragson the champion.
Ty Gibbs and Gragson are tied for the most victories this season with five each. Additionally, it is his tenth overall.
"I don't know if we had the fastest car there in the beginning," Gragson said. "I felt if we went back green and we kept working on it and working on it, we'd have a pretty fast car.
"I'll take 'em any way I can get 'em. (Allgaier) was fast, (Gibbs) was obviously the fastest car all day. I'm just super-thankful."
Gragson responded, "There were a couple of guys (on older tyres) up front and I saw a couple of them spin their tyres," when questioned about the last restart in Stage 2.
Gibbs came in third, followed by Brandon Jones in fourth and Ross Chastain in fifth.
A.J. Allmendinger, Josh Berry, Sammy Smith, Sam Mayer, and Brett Moffitt made up the final ten.
The 12-driver Xfinity playoff field will be determined after the last race, and Gragson, Gibbs, Allgaier, Allmendinger, Berry, Hill, Jones, Sam Mayer, and Riley Herbst have already secured spots. The next three drivers that would qualify for points are presently Daniel Hemric, Landon Cassill, and Ryan Sieg.
| Cla | # | Driver | | Manufacturer | Laps | Time | Gap | Interval | Laps Led |
| --- | --- | --- | --- | --- | --- | --- | --- | --- | --- |
| 1 | 9 | Noah Gragson | | Chevrolet | 93 | 1:10'37.222 | | | 20 |
| 2 | 7 | Justin Allgaier | | Chevrolet | 93 | 1:10'37.892 | 0.670 | 0.670 | |
| 3 | 54 | Ty Gibbs | | Toyota | 93 | 1:10'38.488 | 1.266 | 0.596 | 66 |
| 4 | 19 | Brandon Jones | | Toyota | 93 | 1:10'39.062 | 1.840 | 0.574 | 4 |
| 5 | 48 | Ross Chastain | | Chevrolet | 93 | 1:10'40.065 | 2.843 | 1.003 | |
| 6 | 16 | A.J. Allmendinger | | Chevrolet | 93 | 1:10'40.796 | 3.574 | 0.731 | |
| 7 | 8 | Josh Berry | | Chevrolet | 93 | 1:10'41.241 | 4.019 | 0.445 | |
| 8 | 18 | Sammy Smith | | Toyota | 93 | 1:10'41.837 | 4.615 | 0.596 | |
| 9 | 1 | Sam Mayer | | Chevrolet | 93 | 1:10'42.677 | 5.455 | 0.840 | |
| 10 | 07 | Brett Moffitt | | Ford | 93 | 1:10'43.251 | 6.029 | 0.574 | |
| 11 | 2 | Sheldon Creed | | Chevrolet | 93 | 1:10'43.741 | 6.519 | 0.490 | |
| 12 | 21 | Austin Hill | | Chevrolet | 93 | 1:10'44.016 | 6.794 | 0.275 | 3 |
| 13 | 10 | Landon Cassill | | Chevrolet | 93 | 1:10'44.691 | 7.469 | 0.675 | |
| 14 | 39 | Ryan Sieg | | Ford | 93 | 1:10'45.263 | 8.041 | 0.572 | |
| 15 | 11 | Daniel Hemric | | Chevrolet | 93 | 1:10'45.663 | 8.441 | 0.400 | |
| 16 | 98 | Riley Herbst | | Ford | 93 | 1:10'46.515 | 9.293 | 0.852 | |
| 17 | 02 | Brandon Brown | | Chevrolet | 93 | 1:10'46.976 | 9.754 | 0.461 | |
| 18 | 23 | Anthony Alfredo | | Chevrolet | 93 | 1:10'47.676 | 10.454 | 0.700 | |
| 19 | 31 | Myatt Snider | | Chevrolet | 93 | 1:10'48.449 | 11.227 | 0.773 | |
| 20 | 68 | Kris Wright | | Chevrolet | 93 | 1:10'55.153 | 17.931 | 6.704 | |
| 21 | 51 | Jeremy Clements | | Chevrolet | 92 | 1:10'48.999 | 1 Lap | 1 Lap | |
| 22 | 66 | J.J. Yeley | | Chevrolet | 92 | 1:10'49.413 | 1 Lap | 0.414 | |
| 23 | 08 | David Starr | | Ford | 92 | 1:10'49.975 | 1 Lap | 0.562 | |
| 24 | 36 | Josh Williams | | Chevrolet | 92 | 1:10'50.534 | 1 Lap | 0.559 | |
| 25 | 45 | Rajah Caruth | | Chevrolet | 92 | 1:10'50.535 | 1 Lap | 0.001 | |
| 26 | 78 | Stefan Parsons | | Chevrolet | 92 | 1:10'50.628 | 1 Lap | 0.093 | |
| 27 | 26 | Derek Griffith | | Toyota | 92 | 1:10'52.385 | 1 Lap | 1.757 | |
| 28 | 44 | Howie Disavino | | Chevrolet | 92 | 1:10'53.149 | 1 Lap | 0.764 | |
| 29 | 77 | Dillon Bassett | | Chevrolet | 92 | 1:10'54.627 | 1 Lap | 1.478 | |
| 30 | 35 | Joey Gase | | Toyota | 92 | 1:10'55.988 | 1 Lap | 1.361 | |
| 31 | 91 | Mason Massey | | Chevrolet | 91 | 1:10'51.898 | 2 Laps | 1 Lap | |
| 32 | 5 | Garrett Smithley | | Chevrolet | 91 | 1:10'55.270 | 2 Laps | 3.372 | |
| 33 | 6 | Ryan Vargas | | Chevrolet | 91 | 1:10'56.744 | 2 Laps | 1.474 | |
| 34 | 38 | CJ Mclaughlin | | Ford | 91 | 1:10'57.311 | 2 Laps | 0.567 | |
| 35 | 4 | Bayley Currey | | Chevrolet | 90 | 1:10'53.923 | 3 Laps | 1 Lap | |
| 36 | 34 | Jesse Iwuji | | Chevrolet | 89 | 1:10'57.907 | 4 Laps | 1 Lap | |
| 37 | 47 | Brennan Poole | | Chevrolet | 73 | 1:05'49.225 | 20 Laps | 16 Laps | |
| 38 | 27 | Jeb Burton | | Chevrolet | 51 | 34'42.955 | 42 Laps | 22 Laps | |
Cre: Motorsport.com
Below are some of the most well-known NASCAR drivers' apparels , all of which are available at reasonable costs. Visit our link now if you are interested in the racing clothing collection:
Grand Prix, Ty Gibbs, IndyCar, Nascar, NASCAR Cup Series, Noah Gragson, Kansas Speedway, Justin Allgaier, XFinity