Ty Gibbs took the checkered flag at Richmond Raceway after a close fight with his Joe Gibbs Racing driver John-Hunter Nemechek.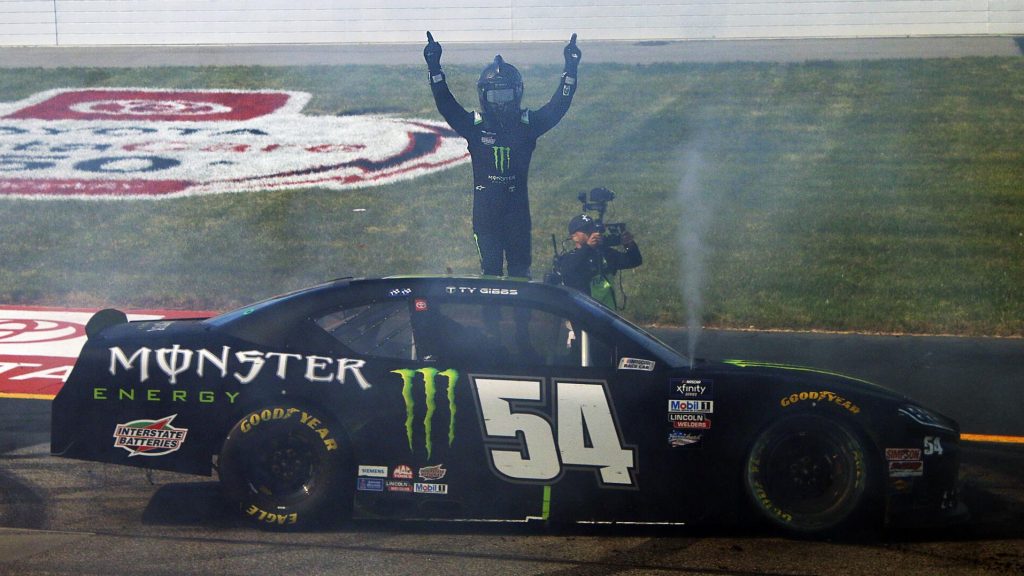 Gibbs won his 6th NXS race of his working life and his second of the 2022 season.
On his route to the checkered flag, he dominated 114 laps and moved his colleague Nemechek out of the way on the closing laps.
"You know, I definitely deserve one back," Gibbs, 19, said. "I deserve that. We were racing for wins and they're hard to come by so I took it.
"We were fighting tight all day and I just couldn't the bottom (lane). John Hunter was a little faster and we had a great race. I just got in there deep and had to bump him out of the way up the track. We're short-track racing.
"It's cool to get our third win so hopefully we can keep it rolling."
| Cla | # | Driver | | Manufacturer | Laps | Time | Gap | Interval | Laps Led |
| --- | --- | --- | --- | --- | --- | --- | --- | --- | --- |
| 1 | 54 | Ty Gibbs | | Toyota | 250 | 1:58'02.746 | | | 114 |
| 2 | 18 | John Hunter Nemechek | | Toyota | 250 | 1:58'02.862 | 0.116 | 0.116 | 135 |
| 3 | 1 | Sam Mayer | | Chevrolet | 250 | 1:58'06.479 | 3.733 | 3.617 | |
| 4 | 16 | A.J. Allmendinger | | Chevrolet | 250 | 1:58'12.080 | 9.334 | 5.601 | |
| 5 | 98 | Riley Herbst | | Ford | 250 | 1:58'15.764 | 13.018 | 3.684 | |
| 6 | 11 | Daniel Hemric | | Chevrolet | 250 | 1:58'16.036 | 13.290 | 0.272 | |
| 7 | 8 | Josh Berry | | Chevrolet | 250 | 1:58'17.576 | 14.830 | 1.540 | 1 |
| 8 | 68 | Brandon Brown | | Chevrolet | 250 | 1:58'17.772 | 15.026 | 0.196 | |
| 9 | 39 | Ryan Sieg | | Ford | 250 | 1:58'18.895 | 16.149 | 1.123 | |
| 10 | 38 | Parker Retzlaff | | Ford | 250 | 1:58'19.516 | 16.770 | 0.621 | |
| 11 | 27 | Jeb Burton | | Chevrolet | 250 | 1:58'20.316 | 17.570 | 0.800 | |
| 12 | 23 | Anthony Alfredo | | Chevrolet | 250 | 1:58'21.155 | 18.409 | 0.839 | |
| 13 | 19 | Brandon Jones | | Toyota | 250 | 1:58'21.430 | 18.684 | 0.275 | |
| 14 | 7 | Justin Allgaier | | Chevrolet | 250 | 1:58'21.648 | 18.902 | 0.218 | |
| 15 | 10 | Landon Cassill | | Chevrolet | 250 | 1:58'23.585 | 20.839 | 1.937 | |
| 16 | 5 | Ryan Preece | | Chevrolet | 250 | 1:58'24.541 | 21.795 | 0.956 | |
| 17 | 91 | Mason Massey | | Chevrolet | 250 | 1:58'25.045 | 22.299 | 0.504 | |
| 18 | 21 | Austin Hill | | Chevrolet | 250 | 1:58'27.119 | 24.373 | 2.074 | |
| 19 | 36 | Alex Labbé | | Chevrolet | 250 | 1:58'27.189 | 24.443 | 0.070 | |
| 20 | 51 | Jeremy Clements | | Chevrolet | 249 | 1:58'06.734 | 1 Lap | 1 Lap | |
| 21 | 9 | Noah Gragson | | Chevrolet | 249 | 1:58'08.356 | 1 Lap | 1.622 | |
| 22 | 2 | Sheldon Creed | | Chevrolet | 249 | 1:58'11.076 | 1 Lap | 2.720 | |
| 23 | 08 | David Starr | | Ford | 248 | 1:58'04.167 | 2 Laps | 1 Lap | |
| 24 | 44 | Rajah Caruth | | Chevrolet | 248 | 1:58'13.777 | 2 Laps | 9.610 | |
| 25 | 02 | Brett Moffitt | | Chevrolet | 248 | 1:58'20.325 | 2 Laps | 6.548 | |
| 26 | 26 | Derek Griffith | | Toyota | 247 | 1:58'15.110 | 3 Laps | 1 Lap | |
| 27 | 78 | Josh Williams | | Chevrolet | 247 | 1:58'16.848 | 3 Laps | 1.738 | |
| 28 | 34 | Kyle Weatherman | | Chevrolet | 246 | 1:58'08.889 | 4 Laps | 1 Lap | |
| 29 | 07 | Joe Jr. | | Ford | 246 | 1:58'09.991 | 4 Laps | 1.102 | |
| 30 | 31 | Myatt Snider | | Chevrolet | 246 | 1:58'15.010 | 4 Laps | 5.019 | |
| 31 | 4 | Bayley Currey | | Chevrolet | 246 | 1:58'19.132 | 4 Laps | 4.122 | |
| 32 | 66 | J.J. Yeley | | Chevrolet | 245 | 1:58'03.250 | 5 Laps | 1 Lap | |
| 33 | 48 | Jade Buford | | Chevrolet | 245 | 1:58'12.644 | 5 Laps | 9.394 | |
| 34 | 35 | Joey Gase | | Toyota | 245 | 1:58'16.220 | 5 Laps | 3.576 | |
| 35 | 99 | Stefan Parsons | | Chevrolet | 245 | 1:58'17.470 | 5 Laps | 1.250 | |
| 36 | 6 | Ryan Vargas | | Chevrolet | 243 | 1:58'09.325 | 7 Laps | 2 Laps | |
| 37 | 28 | Kyle Sieg | | Ford | 139 | 1:22'38.767 | 111 Laps | 104 Laps | |
| 38 | 47 | Brennan Poole | | Chevrolet | 112 | 57'39.820 | 138 Laps | 27 Laps | |
motorsport.com
Below are some of the most well-known NASCAR drivers' uniforms, all of which are available at reasonable costs. Visit our link now if you are interested in the racing clothing collection:
Daytona 500, Ty Gibbs, Grand Prix, IndyCar, Nascar, NASCAR Cup Series, Stewart-Haas Racing, XFinity