A collision on Lap 117 disqualified numerous potential winners from the Daytona 500 after a spotless first half.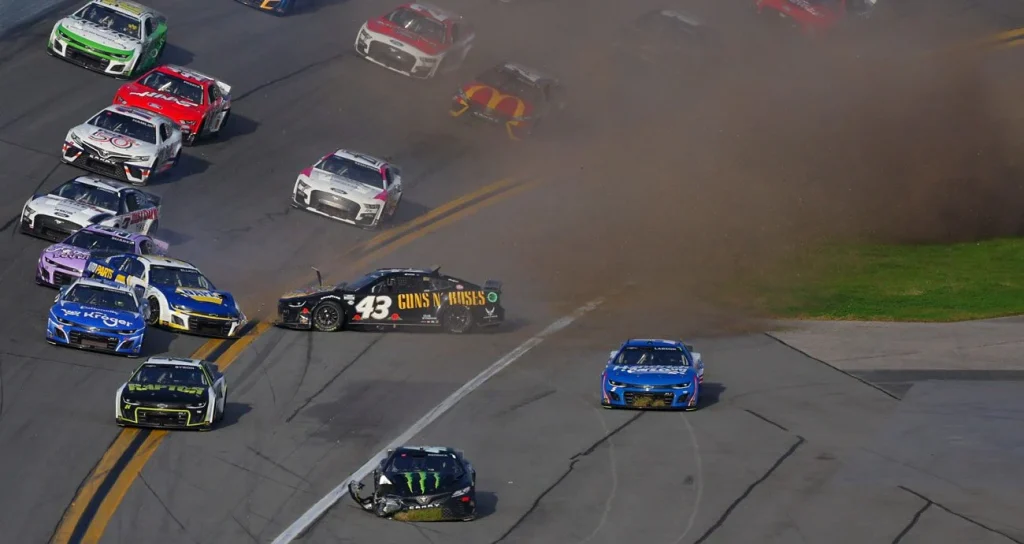 Kevin Harvick was pushing Tyler Reddick as they approached Turn 3. He got loose and crashed into the exterior wall.
Many weren't as fortunate, while Ross Chastain nearly avoided. Erik Jones, Daniel Suarez, Ryan Blaney, and Chase Elliott were all collected. Kyle Larson and Martin Truex Jr. were also involved.
Reddick, Jones, and Elliott could not keep competing. Blaney kept going despite severe damage, but later lost a right front tire.
"It looked like some guys got tangled up, upfront," said Elliott. "Those of us in the back were just scattering to kind of miss it. It looked like the No. 5 (Kyle Larson) and the No. 43 (Erik Jones) kind of went to the apron. By the time we got slowed up, they were coming back across the track and I was the lucky winner to get there first. It's a bummer.. long ways to go. Hate to end the day, but it is what it is."
"Down the back when he (Harvick) got to my rear bumper it just didn't really seem – when I had clean air there – that my car was really stable," said Reddick, after being released from the infield care center. "I thought it moves around a little bit down the back, I've had this before, but yeah, I was kind of caught off guard by what happened in the corner. Unfortunately, it was the first time I've been put in that situation, I got loose and unfortunately took out some other good cars."
He then added: "The car just unfortunately didn't have the stability that it needed to have. It was dancing around a little bit down the back straightaway and a little bump into turn three I would be okay. The car just came around right away and now our car is out of the race and took out a lot of other good cars too."
Jones also expressed his opinions on what occurred, saying, "It was difficult to tell. It looked like the No. 45 (Tyler Reddick) got turned around, but I couldn't see how it happened. Regardless, we spun out there on the bottom when I was trying to get around it and then I got hit on the left side hard enough to take out the left rear and end our day.
Ty Dillon's car was the first to withdraw from the event earlier when his engine failed during the opening stage.
We bring out some of the most well-known NASCAR drivers' apparels , all of which are available at reasonable costs. Visit our link now if you are interested in the racing clothing collection!
Nascar, NASCAR Cup Series, Xfinity, Daytona 500, Ryan Blaney, Chase Elliott, Erik Jones, Daniel Suarez