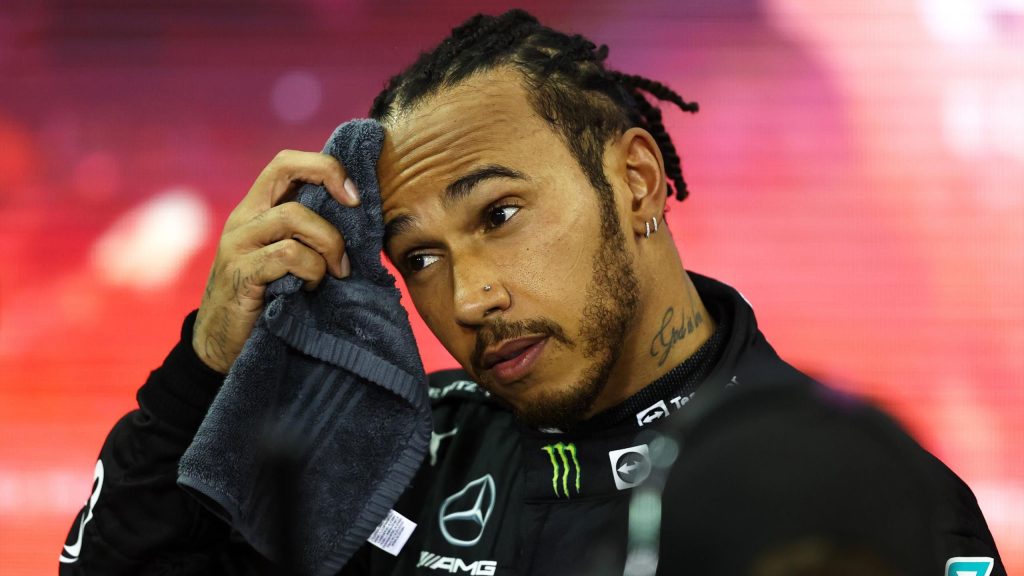 Lewis Hamilton has admitted that he is still confused by what happened in the final minutes of the 2021 Abu Dhabi Grand Prix.
The seven-time World Champion lost a record-equaling eighth title after a late Safety Car intervention and FIA Race Director decision shifted the crown to Red Bull's Max Verstappen.
Hamilton conducted a brief video interview before the trophy ceremony, but then disappeared from the public eye for over two months after the title was decided in a gut-wrenching, last-minute manner.
Hamilton has reappeared on twitter and attended the unveiling of Mercedes' new W13 on Friday, when he gave his first interview since the tumultuous race at the Yas Marina circuit.
"I just unplugged; I switched off," Hamilton told media, including RacingNews365.com, when asked about his mental thought process since Abu Dhabi.
"I think I deserve to be able to switch off at the end of the year anyway, but I had my family around me, my whole family around me – it was actually a rare occasion where we're absolutely all together and [I] just focused on being present with them.
"Obviously, [it] took time to digest what had happened which, I think, [it is] still difficult to fully understand everything. But what doesn't kill you makes you stronger.
"I put my focus into just training, getting healthy, and enjoying the time off, because it goes quickly."
Hamilton refuses to let his failure in Abu Dhabi "define my career"
Following a massive public outcry and an unprecedented inquiry by the FIA, the governing body's head Mohammed Ben Sulayem acknowledged a modification to the Race Control structure for 2022 earlier this week.
While Hamilton remained silent during the winter, he admitted that following the end of the race, he never intended to retire from F1, but went through his regular mental process of contemplating whether or not to continue.
"I've considered retiring so many times!" he joked.
"Honestly, I haven't. Of course, at the end of seasons, you think [about it], and the question is whether you're willing to commit the time, the effort that it takes to be a World Champion.
"I think a lot of people underestimate what it takes to be a World Champion. There are so many moving parts; it's not just turning up and driving the car.
"The question is, do you want to sacrifice the time? Do you believe that you can continue to punch at the weight that you're punching? That's a normal mental process for me but, of course, this one was compounded by a significant factor."
Hamilton, on the other hand, indicated that because of his resilient personality, he was convinced he wanted to return and guarantee that Abu Dhabi would not determine his successful career.
"Ultimately, I love a sport that I've loved my whole life," he said.
"There was a moment where I obviously lost a little bit of faith within the system. But, I'm generally a very determined person, and I like to think to myself that whilst moments like this might define careers, I refuse to let this define mine.
"I'm focused on being the best I can be and coming back stronger."
Several uniforms inspired by F1 racing drivers are currently available at the following websites for a reasonable price:
F1, F1 2022, Formula 1, Grand Prix, Hamilton, Lewis Hamilton, Mercedes, Abu Dhabi