In Bahrain, Ferrari won, with Charles Leclerc driving the Italian team to a 1-2 finish, leaving Mercedes and Red Bull a long way behind.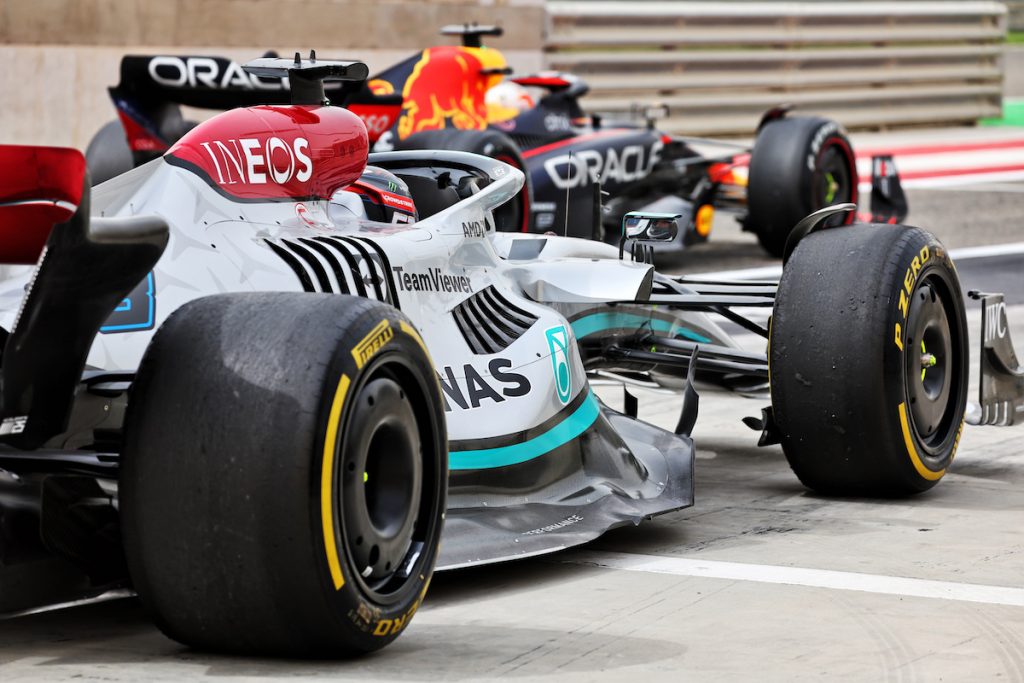 Ferrari has created a car enabling them to World Championship success in 2022, if the season-opening Bahrain Grand Prix provides any indication.
After a thrilling race-long duel with Red Bull driver Max Verstappen, Charles Leclerc led the team to a 1-2 finish on Sunday.
Over the course of the race, the two swapped positions six times, but it was pole-sitter Leclerc who took the lead.
Three of the four Honda-powered cars suffered mechanical problems during the last circuits, leaving Red Bull empty-handed after finishing second on the road to Ferrari in Bahrain.
Mercedes, on the other hand, took advantage of the situation to finish third and fourth with a car that was unable to catch pace with the race winners, Ferrari.
Pit-stops proved crucial during the Bahrain GP
Red Bull and Mercedes, on the other hand, can close the gap on Ferrari if they enhance their pit-stop times in the Saudi Arabian Grand Prix.
The mid-race tyre adjustments, which were made much more difficult for technicians by F1's new 18-inch diameter Pirelli tyres, proved important in the battle for the lead, with Red Bull reaping the benefits of a powerful undercut twice to close in on race winner Leclerc.
Verstappen was able to obtain a lead in the first instance before losing it seconds later – something that may have been avoided with a quicker pit stop.
Ferrari's fastest pit-stop time (2.33 seconds) was just under three tenths of a second faster than Red Bull's (2.62 seconds), but no team was able to beat McLaren's record-breaking time (2.31 seconds).
Mercedes have the most to gain in the pit lane
Mercedes, on the other hand, have the most pit-stop time to improve of the front-running drivers, with Lewis Hamilton's fastest stop in Bahrain (3.45 seconds) being about a second slower than Ferrari's.
If they find themselves contending for position with Ferrari cars in Saudi Arabia, that one-second gap may be the distinction between moving ahead of them during a vital pit-stop phase.
During the Bahrain Grand Prix, eight teams set faster pit-stop times, with Williams and Alpine joining McLaren and Ferrari at the top of the list.
The Haas technicians have a lot of homework on their hands as they get accustomed to replacing the sport's new 18-inch tyres, with Kevin Magnussen's fastest stop clocking in at 3.57 seconds.
BAHRAIN GP: EACH DRIVER'S FASTEST PIT-STOP
| Position | Driver | Team | Best stop (secs) |
| --- | --- | --- | --- |
| 1. | Ricciardo | McLaren | 2.31 |
| 2. | Sainz | Ferrari | 2.33 |
| 3. | Ocon | Alpine | 2.46 |
| 4. | Latifi | Williams | 2.47 |
| 5. | Norris | McLaren | 2.49 |
| 6. | Alonso | Alpine | 2.53 |
| 7. | Leclerc | Ferrari | 2.54 |
| 8. | Verstappen | Red Bull | 2.62 |
| 9. | Tsunoda | Alpha Tauri | 2.62 |
| 10. | Perez | Red Bull | 2.63 |
| 11. | Albon | Williams | 2.70 |
| 12. | Gasly | Alpha Tauri | 2.78 |
| 13. | Stroll | Aston Martin | 2.80 |
| 14. | Bottas | Alfa Romeo | 3.10 |
| 15. | Hulkenberg | Aston Martin | 3.26 |
| 16. | Zhou | Alfa Romeo | 3.27 |
| 17. | Russell | Mercedes | 3.27 |
| 18. | Schumacher | Haas | 3.30 |
| 19. | Hamilton | Mercedes | 3.45 |
| 20. | Magnussen | Haas | 3.57 |
Cre: RN365
Below are some of the most well-known F1 drivers' uniforms , all of which are available at reasonable costs. Visit our link now if you are interested in the racing clothing collection:
Charles Leclerc, F1, F1 2022, Ferrari, Formula 1, Grand Prix, Max Verstappen, Red Bull