A number of engine modifications have already been implemented after the first 13 races of the 2022 Formula One season, putting many racers, notably Max Verstappen and Charles Leclerc, in risk of receiving a penalty.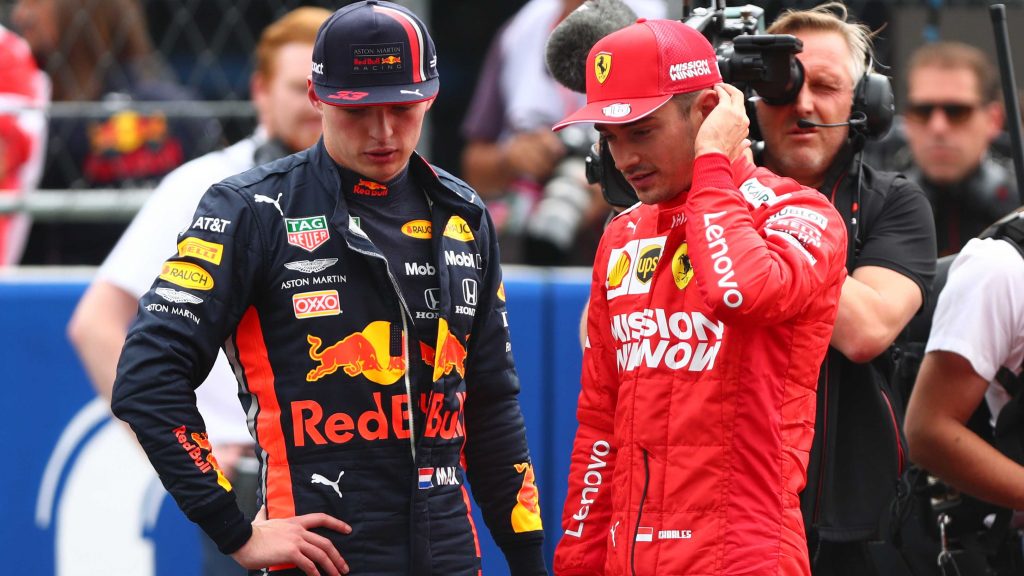 Many racers could face penalties when the 2022 F1 season returns following the summer break.
Drivers who go above the allotted number of engine parts for a campaign may face grid penalties under the motorsport's rules. Each racer receives the following sum each season:
Internal Combustion Engine (ICE): max three
Turbo Charger (TC): max three
MGU-H: max three
MGU-K: max three
Energy Store (ES): max two
Control electronics (CE): max two
Exhaust (EX): max eight
This indicates that a racer may use the mentioned number of parts without incurring a penalty, but exceeding the limit will result in a grid penalty.
Parts that have been used before can be refitted. For instance, the first two ICEs in a racer's car can still be used even if a third one is introduced.
The number of parts used by each racer for the Hungarian Grand Prix is listed below.
NUMBER OF USED ENGINE PARTS PER DRIVER
| Driver | ICE (three) | TC (three) | MGU-H (three) | MGU-K (three) | ES (two) | CE (two) | EX (two) |
| --- | --- | --- | --- | --- | --- | --- | --- |
| Russell | 2 | 2 | 2 | 3 | 2 | 2 | 3 |
| Hamilton | 2 | 3 | 3 | 2 | 2 | 2 | 3 |
| Verstappen | 3 | 3 | 3 | 3 | 1 | 1 | 5 |
| Perez | 3 | 3 | 3 | 3 | 1 | 2 | 5 |
| Leclerc | 4 | 4 | 4 | 4 | 2 | 3 | 8 |
| Sainz | 4 | 4 | 4 | 4 | 2 | 3 | 5 |
| Ricciardo | 2 | 2 | 2 | 2 | 1 | 1 | 2 |
| Norris | 3 | 3 | 3 | 3 | 1 | 1 | 3 |
| Alonso | 5 | 5 | 5 | 4 | 4 | 4 | 5 |
| Ocon | 3 | 3 | 3 | 3 | 2 | 2 | 3 |
| Gaslu | 3 | 3 | 3 | 3 | 2 | 2 | 5 |
| Tsunoda | 4 | 4 | 4 | 4 | 3 | 3 | 5 |
| Stroll | 2 | 2 | 2 | 2 | 2 | 2 | 2 |
| Vettel | 2 | 2 | 2 | 3 | 2 | 2 | 2 |
| Albon | 2 | 2 | 2 | 2 | 2 | 2 | 2 |
| Latifi | 2 | 2 | 2 | 2 | 2 | 2 | 2 |
| Bottas | 4 | 5 | 5 | 5 | 2 | 3 | 5 |
| Zhou | 3 | 3 | 3 | 3 | 2 | 2 | 4 |
| Magnussen | 4 | 4 | 4 | 4 | 2 | 2 | 5 |
| Schumacher | 3 | 3 | 3 | 3 | 2 | 2 | 5 |
Cre: Racing365
Below are some of the most well-known FORMULA 1 drivers' apparels, all of which are available at reasonable costs. Visit our link now if you are interested in the racing clothing collection:
F1, F1 2022, FIA, Formula 1, Grand Prix, Max Verstappen, Red Bull, Charles Leclerc, Ferrari